Nail Enhancements
SNS dipping powder: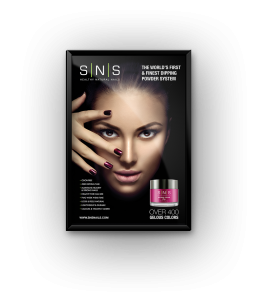 SNS dipping powder helps your nails grow out stronger and healthier by adding 5 different kinds of Vitamins and Calcium to the nails. SNS dipping powders create a far lighter and more natural covering for the nails.
Our customers are astonished to find that within weeks of beginning to use SNS that their nails are becoming stronger and healthier which is a complete reversal of their normal experience after a visit to the nail salon. SNS has mastered the rare art of creating a brilliant nail solution that both looks and feels completely natural. The best part is that SNS dipping powder has no odor, no liquid, no primer, and does not need to use a UV light. SNS dipping powder also helps promote healthy nails – unlike gel or acrylic.
Pink and white:
Pink & white nails, also known as French tips, are a look consisting of white tips on a pink nail base. They are typically achieved by adding a plastic tip or sculpting one to the nail and covering it in acrylic powder and/or gel.
Acrylic nails:
Acrylic nails are a combination of a liquid monomer and a powder polymer. They create a hard protective layer over your natural nails as the product hardens when it is exposed to air. Acrylic is transparent and a nail polish is added after.